So I snuck out in the early afternoon today for a short run.

Strangely, there wasn't really a reason for me to be sneaking out... it's not like I didn't come back. And I would have gone during the generally accepted lunch hour but I was in the groove and getting stuff done. Sometimes you're beating your head against the wall and need a break to get a fresh perspective, sometimes you know exactly what you need to do and you have to let the momentum take you where it needs to go. Lunchtime, I was rolling.

So I had worked through lunch, and I was waiting for a simulation to compile and run anyway. But there's something about leaving the confines of the building at two-and-a-half in the post meridian that feels somehow not on the up-and-up. I'm sure that's just what they want you to think. And the Senior VP (previously the CEO of my group/department when it was a startup) was known to look unkindly upon those not in the office working vigorously at their desks, at all hours of the day. (Which barely scratches the surface of his mentality that you should be spending every waking moment doing work.)

But I've been trying to keep up my conditioning, especially after my forced inactivity while waiting for my shoulder to heal. And I was feeling a bit stiff and sore from the game last night, so I figured it'd be a good idea to get the body moving for a bit.

It didn't hurt that it was in the mid-80's and sunny with clear skies.

So 2:30ish, I head out. I figure I'll do a fairly short loop, maybe 30 minutes, since I did want to get back to check the results of my sim. Maybe a good day to check out one of the trails -- it hasn't rained much so it hopefully won't be too muddy, and on a warm day, it's nice to get off the road and run through the shade of the woods.

So I have one route that hits a trailhead through some town conservation land about 13 minutes into the run. I'm feeling a little sluggish and it's definitely work coaxing my legs into a decent pace, but it's always good to be outside. The sun and light summer breeze are just gravy.

So I hit the trailhead (13:25, right on schedule) and maybe 30 feet in -- WHAM! Faceplant. Well, maybe more like an unintentional layout. I'm stretched out on the ground lying slightly on my left side, left arm out, right arm bent next to me, legs straight behind. It wasn't painful, at least not initially, just surprising. And annoying. I just kind of laid there for a moment, surveying the situation. Must have tripped on a root or small tree stump. My eyes were probably still adjusting to the light change or something. Whatever. I did a quick self-check: the knee that I shredded yesterday during the game was fine, but I cut up the other knee (hey, matched set), a cut and scrapes on my left forearm, some nice bruising on both palms. Dirt.

Ok, I'm fine. Good enough, at least. I get myself together and continue on. I mean, it's a short run, turning around doesn't get me back to the office much faster, I may as well finish the run. I did have an image flash through my brain of me lying face down, unconscious with my head split open, but I dispelled that fairly quickly. Otherwise, pretty uneventful. Well, maybe the water hazard and 4 muddy stretches -- so maybe it wasn't so dry after all. I get back, do a quick stretching routine, shower, and I'm back at my desk maybe 64 minutes after I left, none the worse for wear. Well, you know what I mean.

Oh, and I can't forget to mention: while on the ground, I picked up some friends...
(found 'em while in the shower)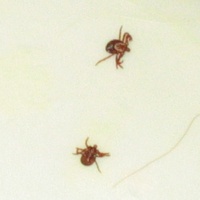 Maybe someone is trying to tell me something.
Still, it was good to get outside.
But maybe next time, I'll go during lunch. (And maybe stay off that trail.)